Sundar Pichai – How he became the CEO of Google?
It is often said that – "Success usually comes to those who are too busy to be looking for it." When it comes to successful Indian personalities, one would never forget Sundar Pichai.
Here's the journey of a once shy teenager, who now heads Google and Alphabet.
1) How a man from India became the CEO of Google?
Sundararajan Pichai aka Sundar Pichai was born in Chennai on July 12, 1972. Since his childhood, he was considered as the brightest student of his batch. He belonged to an average middle class and a very humble family who lived in a two-room apartment in Chennai.
They didn't own a television till he turned 12. Growing up, his father noticed that Pichai had a knack of remembering telephone numbers and could remember every number he dialled.
It was his father who happened to be an electrical engineer from whom he introduced to the technology. His father developed in him a seed of interest in tech right from his childhood.
Later, Sundar Pichai went on to study Metallurgical Engineering from IIT Kharagpur and then flew to Stanford University to study his MS in material sciences and Engineering and later an MBA from Wharton University.
After his degree, he joined McKinsey and Company as a consultant.
In 2004 he joined Google as its Vice President of product management where he worked on Google toolbar and provided his ideas for Google chrome and Google OS.
Rise of Google chrome opened a door of opportunities for Pichai in 2008.
In 2013, Pichai added Android to Google products.
In 2014, he got an opportunity to lead all products and platforms of the company.
In 2015, Sundar Pichai bagged the position of CEO of Google and in 2017 he was included on the Board of Directors of parent company Alphabet.
This is how a man from India became the CEO of Google.
Sundar Pichai proved that nothing is impossible if you are determined to work out of your comfort zone. Sundar Pichai today is the pride of India. His contributions to the world, are commemorable.
2) Why goggle hired Sundar Pichai and why he became CEO?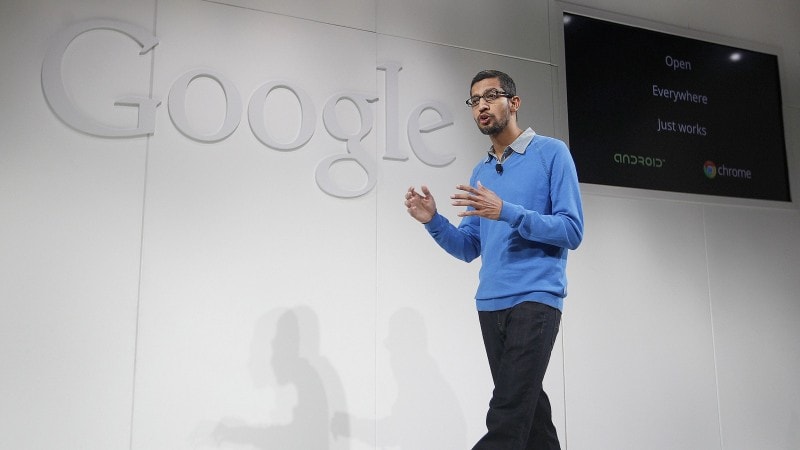 It all started with an interview in 2004, just like other engineers Sundar Pichai was interviewing at this new startup called Google.
Google announced its email service called Gmail on 1st April 2004, and on the same day, Sundar Pichai got his interview scheduled. His interviews were conducted in several rounds and in the fourth round, one interviewer asked him about Gmail.
He was very honest and answered he didn't use it yet. He also added that – "He thought it was an April Fool's Day prank".
Later he was asked to use it and give feedback about it and how it can be improved. All his suggestions were found to be useful and that is when Google hired Sundar Pichai as a management consultant.
He was the first to predict that someday Microsoft would build their own browser and replace the Google toolbar so Google should make their own browser.
Although it was expensive to build its own browser, he convinced the parent company's owners Larry Page and Sergey Brin to create an in-house browser.
Sundar Pichai's idea was to make a browser competitive enough as against Internet Explorer and Firefox.
His insights proved to be true and worked out well.
While Google did stand out impressively, Pichai believes in getting more progressive results. Pichai's ability and loyalty eventually made him CEO of Google in October 2015.
He was also a strong contender for the position of CEO at Microsoft which is now headed by Satya Nadella. Google offered him a better package which is why he chose Google to work with.
He also became CEO of Alphabet, his portfolio includes projects such as self-driving cars apart from Google's core products.
He believed that as a leader, your job is to make others successful. Your work is to remove roadblocks so that they succeed at what they do.
His potential kept the innovation train moving on and he distanced himself from all the politics that prevail in the corporate world. No wonder why he is loved by everybody who worked with him.
3) What would happen if Sundar Pichai was working in India?
Sundar Pichai is a self-made man who succeeded every time because of his skills and hard work.
He believed that India is a great exporter of talent. And today India is growing globally in technologies.
According to him if you follow your passion and work hard towards it you'll definitely get success no matter wherever you are. If he would've been in India, he would be in the field of technology because his love for tech is never-ending.
Today Sundar Pichai's net worth is estimated between $600 million and $1.2 billion.
Sundar Pichai is a man known for his work. His result-driven strategy complements his reputation and credibility. Sundar Pichai is an inspiration to many and today's generations could learn so much from him and follow his ideas.
As Indians, we are proud of him and wish him more success on his way. Tell us what you think about Sundar Pichai in the comments section, and do share it with your friends and colleagues.