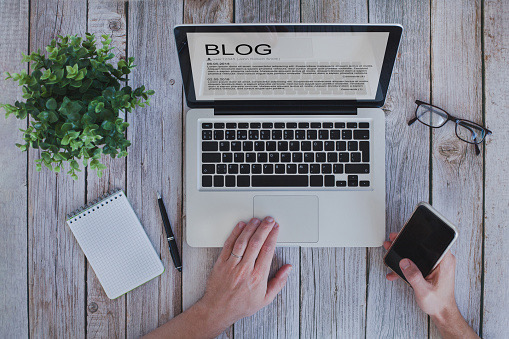 Beginners Guide To Start A Blog With No Experience
Thinking of starting a blog.?
Great idea!
But don't know where to start.? Don't worry I am here to your rescue.
If you're looking for an easy guide for beginners on how to start a blog, you're in the right place.
In this blog, you'll find a step-by-step guide on how to create a blog with no experience and with basic computer skills.
So whether you are 15 or 50, you can create your blog following some basic steps.
This blog covers the basic steps and is exclusively for beginners level.
Steps to follow to start a blog
If you're starting your blog keep the following points into consideration.
Discover Your WHY
Before you start your blog you need to know WHY you're starting your blog.
You need to ask yourself and discover your WHY? Do you wish to make money with your blog or turn it into a business or do you just want to blog for fun?
In both cases, you need to have an answer and then begin the journey of blogging.
Think Of A Concept
Before you do anything, figure out what your blog is going to be about. Make sure you think of a concept based on your interest and passion.
Say for example if you are passionate about travelling so you can write about different places and adventures at various places, etc.
You can drive readers who love travelling to your blog and convert them into your subscribers.
Likewise you can create a concept of your interest and provide quality content to your readers.
Once you decide the concept the next thing you should do is to pick a blog name.
Decide A Name of Blog
One of the brainstorming activities and fun parts is deciding a name for your blog. But if you are one of those who is clueless.
Don't worry I am here to help!
Here's a simple and effective drill you could follow to pick your blog's name.
Take a pen and a piece of paper
Write down a word related to the concept of your blog
After that draw a mind-map
Note down different keywords
Use various adjectives and come with catchy and unique names
Choose one that matches your taste
After you've come up with a blog name enter it in google to make sure it is not taken.
And you are good to go!
Choose Your Platform
Choosing a platform for your blog is completely a personal preference.
Since there are numerous platforms available online. For beginners I would highly recommend BLOGGER, because it is so easy and straightforward to use even if you have no experience at all. However, serious bloggers use a self-hosted WordPress site (which I recommend if you are passionate about your blogging journey) because it is creative and flexible.
WordPress is quite trickier to navigate but if you are a pro at HTML then it's probably the one for you.
You could also find different options like Tumblr, Wix and many more but WordPress is the most used platform for blogging.
Do you know the reason WHY? Check out blog
Choose A Web Hosting
Starting a self-hosted blog can be expensive depending on the web hosting company you use and plan you choose. But it is a lot cheaper than you think.
A web hosting provider is a service that allows you to post a website on the internet. What it does is it will rent you out storage space on the internet where all your files, information and data are stored.
You need to first have a web hosting account in order to create a blog and blogging software to write your blog.
For blogging software I would suggest wordpress.org because it is the easiest and most popular one.
I would also suggest you get domain name and hosting from the same provider. I recommend bluehost.com for blog hosts.
They register your blog name and domain name for you for free
Their signup process is quick and easy
They offer a free, automatic installation of the WordPress blogging software
They have helpful and friendly customer service which are active for 24/7
Also, they offer a money back guarantee if you choose to cancel your account for any reason
In a nutshell if you have bluehost, you are easy and risk free.
Start Your Blog With WordPress
Once you've created your bluehost account click on "Go to Login" to start setting up your WordPress website. You'll have to enter your blog's name and some brief information about your website and what it is about.
Once you have done filling required details and information, you should click 'Continue' and the WordPress website is ready.
The reason I insist on starting your blog with WordPress is mentioned in this blog. Check it if you haven't yet.
Customise Your Blog theme And Launch It
Now you are in the last step to launch your blog to the rest of the world. So, now you can edit your blog.
Go to Posts > Add New to create a new post! I recommend doing these things before launching it so that you can get an idea about using it.
Customise your blog design and choose appropriate themes for your blog. For that I want you to have a look on this blog.
You can add important pages like About Page, Contact Page, Privacy Policy Page, Disclaimer Page, Terms and Services Page. This will make your page transparent to your readers.
Also add plugins to your blog. Install Yoast SEO plugin as it helps you to write SEO friendly posts.
Check out this blog if you want to write SEO friendly posts.
Following the above steps will get you ready with your blogging journey.
I hope these tips will do justice in understanding the basics of blogging and guide you to start your blogging journey.
Tell us what you think in the comments. If you liked this article then do share it with your friends and colleagues. And don't forget to subscribe to Fightrons.